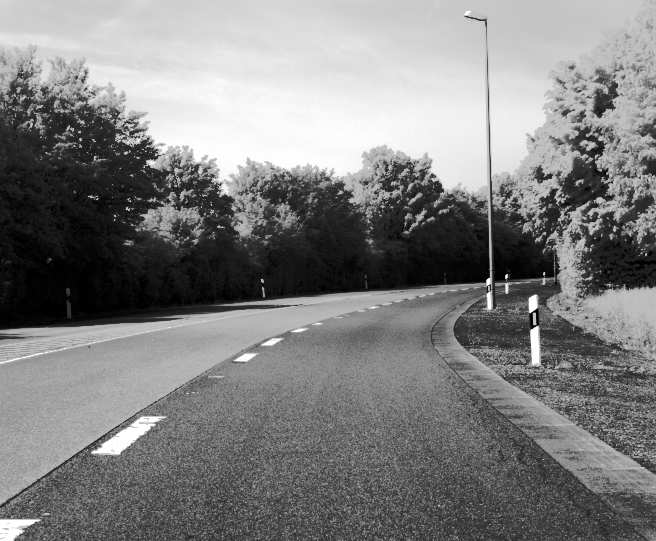 We investigate an approach to jointly estimating camera motion and dense scene structure in terms of depth maps from monocular image sequences in driver-assistance scenarios. We achieve a pronounced spatio-temporal filtering effect and robustness by formulating the approach in a recursive framework. Details...
For denoising images and signals, a prominent method is the total variation regularisation based approach proposed by Rudin, Osher and Fatemi. In literature, several variants exists, in which the regularisation is locally adapted to the image content in order to cope with locally varying noise or to improved the reconstruction of edges and corners. We generalise the approach by Rudin, Osher and Fatemi in a way that we allow the adaptivity of the regularisation to explicitly depend on the solution of the optimisation problem itself. Details...
A variational approach is presented to the estimation of turbulent fluid flow from particle image sequences in experimental fluid mechanics. The approach comprises two coupled optimisations for adapting size and shape of a Gaussian correlation window at each location and for estimating the flow, respectively. The method copes with a wide range of particle densities and noise levels without any data-specific parameter tuning. Based on a careful implementation of a multiscale nonlinear optimisation technique we demonstrate robustness of the solution over typical experimental scenarios and highest estimation accuracy for an international benchmark dataset (PIV challenge). Details...
Variational approaches are nowadays routinely used in many image processing applications. However, with increasing sensor resolution, the resulting problem representations can not be handled within the working memory of standard PCs any more. This necessitates to investigate problem decomposition that can process in parallel large-scale problems with of-the-shelf hardware. In our work we consider the fairly general class of convex quadratic optimisation problems, which includes for example motion estimation problems with higher order regularisation. Details...
Contact
E-Mail: becker (AT) math.uni-heidelberg.de
Phone: +49 6221 54 5288
Fax: +49 6221 54 5276
Visitor address
Heidelberg Collaboratory for Image Processing (HCI), Universität Heidelberg
Second floor, room H2.20
Speyerer Str. 6, 69115 Heidelberg, Germany (
Directions
)
Postal address
Dr. Florian Becker
HCI, Universität Heidelberg
Speyerer Str. 6
69115 Heidelberg
Germany
Curriculum Vitae
since May 2009
Postdoc at the Heidelberg Collaboratory on Image Processing (University of Heidelberg)
January 2005
to April 2009
doctoral studies on "Variational Correlation and Decomposition Methods for Particle Image Velocimetry" in the IPA group (University of Heidelberg), the former CVGPR group (University of Mannheim), supervised by Prof. Christoph Schnörr

October 1999
to December 2004
studies of computer engineering ("Technische Informatik") at the University of Mannheim, graduated as "Dipl. Inf."
Publications
Also see my google scholar profile.
This material is presented to ensure timely dissemination of scholarly and technical work. Copyright and all rights therein are retained by authors or by other copyright holders. All persons copying this information are expected to adhere to the terms and constraints invoked by each author's copyright. In most cases, these works may not be reposted without the explicit permission of the copyright holder.