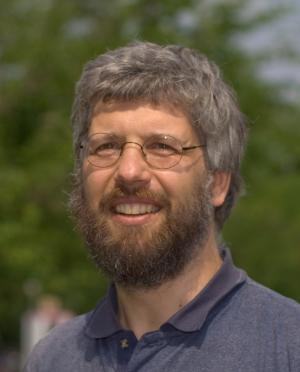 [ Scientific Interests | VIGRA | CV | Publications | Teaching ]
Prof. Dr. Ullrich Köthe
Group Leader in the Visual Learning Lab Heidelberg
Mathematikon B (Berliner Str. 43), level 3, office A119
Email: ullrich.koethe (at) iwr.uni-heidelberg.de
Phone: +49 6221 54 14834
Fax: +49-6221-54 5276
Address:
Interdisciplinary Center for Scientific Computing (IWR)
University of Heidelberg
Im Neuenheimer Feld 205
69120 Heidelberg
Scientific Interests
I'm heading the subgroup on "Explainable Machine Learning". Explainable learning shall open-up the blackbox of successful machine learning algorithms, in particular neural networks, to provide insight rather than mere numbers. To this end, we are designing powerful new algorithms on the basis of invertible neural networks and apply them to medicine, image analysis, and the natural and life sciences.
In addition, I'm interested in generic software bringing state-of-the-art algorithms to the end user and maintain the VIGRA image analysis library.
Teaching
By individual arrangement
Master and bachelor theses in the field of machine learning and image analysis (Informatik, Scientific Computing, Physics)
Practicals, creditable for e.g. BSc Informatik (IFP), MSc Informatik (IFM), Physics (WPProj)
Summer Term 2022 (planned)
Winter Term 2021/22
Previous semesters
Selected Publications
Please refer to my profile at Google Scholar and the DBLP Citation Database for a more complete list. My pre-2010 publications can also be found here.
Theses:
U. Köthe: "Reliable Low-Level Image Analysis"
Habilitation Thesis, Department Informatik, University of Hamburg, 318 pages, Hamburg 2008
Abstract | PDF (10 MB)
U. Köthe: "Generische Programmierung für die Bildverarbeitung"
PhD Thesis, Fachbereich Informatik, Universität Hamburg, 274 pages, Hamburg 2000, ISBN: 3-8311-0239-2. (in German)
Abstract | PDF (12.5 MB)
Recent and popular papers:
Curriculum Vitae
| | |
| --- | --- |
| since 2018 | Associate Professor and group leader in the Visual Learning Lab Heidelberg |
| 26. Nov. 2008 | Habilitation for a thesis entitled "Reliable Low-Level Image Analysis", Department of Informatics, University of Hamburg |
| 2008-2012 | Senior scientist at Heidelberg Collaboratory for Image Processing (HCI) |
| 2007-2017 | Vice Group Leader of the Image Analysis ans Learning Group (formerly: Multidimensional Image Processing), University of Heidelberg |
| Spring semester 2004 | Guest researcher at Computer Vision Laboratory, Linköping University, Sweden |
| 1999-2007 | Assistant professor (officially: "Hochschulassistent") in the Cognitive Systems Group, University of Hamburg |
| 29. Feb. 2000 | Dr. rer. nat. (PhD) for a thesis entitled "Generische Programmierung für die Bildverarbeitung", Department of Informatics, University of Hamburg |
| Spring semester 1993 | Guest researcher at Sarnoff Corporation, Princeton, USA |
| 1992-1999 | Research assistant at the Fraunhofer Institute for Computer Graphics, Rostock |
| 1986-1991 | Study of physics at University of Rostock, Diploma thesis on "Mikroskopische Herleitung einer Ratengleichung am Beispiel der Nukleonen-Deuteron-Reaktion" |